Professor Hope Cynthia Sadza : Board Chairperson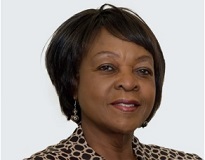 Professor Hope Cynthia Sadza is the Founder and Founding Vice Chancellor of the Women's University in Africa (WUA). She holds a Ph.D in Public Administration and Management obtained from the University of Zimbabwe in 1997. Her Bsc in Public Administration and Management and Masters Degree were obtained at the University of Missouri, Columbia in the United States of America (1976 – 1980).
In 1980 she became Registrar of Apprenticeship Authority in the Ministry of Manpower Planning and Development. Was one of the three founding Directors of the Zimbabwe Institute of Public Administration and Management (ZIPAM); appointed by government as Commissioner of the Public Service Review Commission in 1987; Parastatals Commissioner from 1988 to 1990. From 1990 to 2000 appointed Public Service Commissioner and became the Deputy Chair of the Commission – a Presidential appointment.
She has six publications on Economic Reforms, Gender and Equity, Gender Mainstreaming, Civil Service Reforms, investing in Women for Sustainable Development; Women, Power and Culture in Zimbabwe.
She has presented over forty major papers at national, regional (Africa) and international seminars (i.e. Mauritius, Oxford, England, Turkey, Tunisia, Ethiopia, USA, Sweden, Senegal, China and South Africa).
She won the most prestigious scholarship – Fulbright scholar 2009/2010, tenable in the USA. She was a visiting Professor at Monash University, Malaysia, Petaling Jaya – 2008.
She is a member of various professional associations which include, the Zimbabwe Institute of Management, Institute of People Management of Zimbabwe, Current Chairperson of the Zimbabwe Universities Vice Chancellors Association (ZUVCA), Chairperson of the Commander of the Air Force of Zimbabwe Charity Fund Patron of the National Blood Services of Zimbabwe.
Sits on the following Boards; Delta Corporation, British American Tobacco Zimbabwe (BAT); Securico Security Services and represents Zimbabwe on the International Association of Universities headquartered in Paris, France.
Was Commissioner for the writing of the new Zimbabwe Constitution (2000) and appointed Co – Chair of the AU Stakeholders Conference on the writing of the new Constitution of Zimbabwe (2009 – 2012).
She has won over seventeen academic, gender leadership and professional awards since founding the Women's University in Africa, from the USA, Nigeria, and Zimbabwe. She was inducted into the Women's Heritage Society, World Organisation Hall of Fame in 2014. This is a hallmark of symbolic presentation and historical recognition for twenty women in the world for inspiring other lives, leaving a legacy worth preserving for the future. Zimbabwe Institute of Management gave her a Lifetime Achievement Award in 2014.
The Zimbabwe Open University Chancellor, H.E. Cde R.G. Mugabe bestowed on her an Honorary Doctor of Philosophy Degree (Honoris Causa) in Gender and Academic Leadership in 2015.